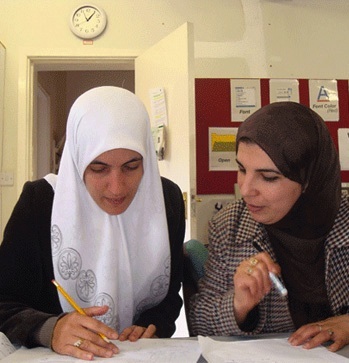 English & Community Languages.
SPECIAL NOTICE:
UNFORTUNATELY WE ARE CURRENTLY UNABLE TO OFFER OUR POPULAR LANGUAGE AND I.T. COURSES.
At Heba, we offer free English language (ESOL) classes to migrant women, and affordable evening classes in Sylheti (the language spoken by the majority of the Bengali population in East London). We see this bridging the gap between the migrant and indigenous populations by building steps on both sides.
English language classes are skills-focussed and cover a range of everyday needs from making a doctor's appointment to writing your CV. Our English courses are accredited (Trinity College London) but are set up in such a way that each woman can attend the classes most appropriate for her needs (for example, your speaking and writing might be at very different levels). English language support is also offered in some of our sewing classes, thanks to the kind support of the City Bridge Trust.
Our Sylheti classes, like our English, offer more than just language; we hope you will gain insight into a whole culture. Each lesson in a six-week course covers a different aspect of Sylhet's unique culture and geography.